Amis Balcomb

Sky Under Cover
Pinch Pot, Paper Clay and Acrylic, 2.75" x 2.5" x 2.5" , NFS
Stick Orb, Earthen Asteroid , Lava Orb
Pinch Pots, Paper Clay, Ink and Acrylic/ Paper Clay and White Crackle, and Silver Glaze/Paper Clay and Acrylic, 1.75" x 2.25" x 2.25"/ 2" x 3" x 3"/ 1. 5" x 2.5" x 2.25", NFS
Earthen Asteroid
Raku Pinch Pot , Paper Clay and White Crackle, and Silver Glaze, 2" x 3" x 3", NFS
My Home
Slab Box, Terra Cotta Paper Clay and King's Blue Underglaze, 8.5" x 9.5" x 4", NFS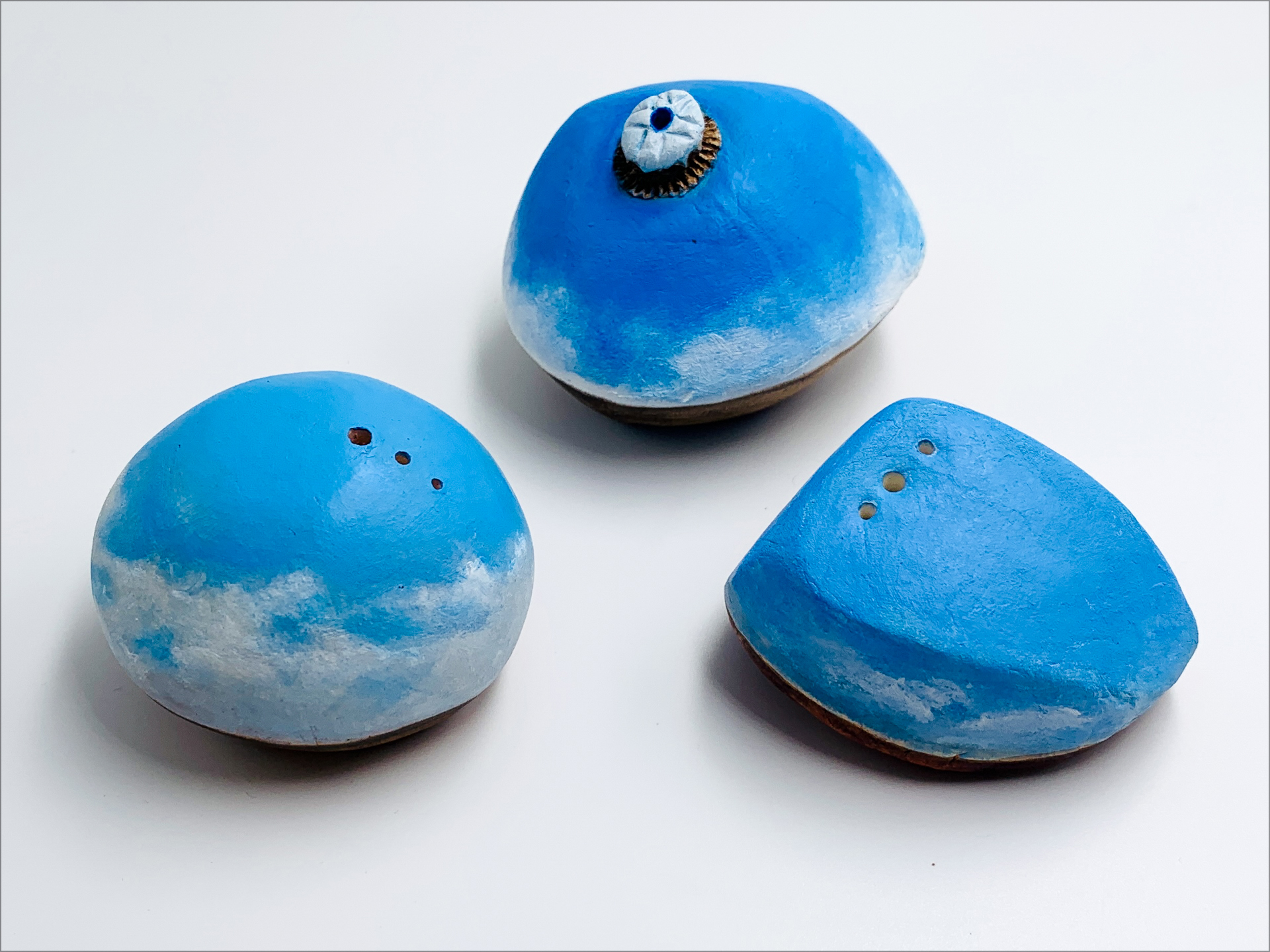 3 Sky Entry Points , Sky Cupcake, & Sky Mesa
Pinch Pots, Paper Clay and Acrylic, 1.75" x 2.5" x 2.25",/ 2.25" x 3" x 2.5"/ 1.75" x 2.75" x 2.25" , NFS
My clay work at the Clay Salon has introduced me to wonderful creative people that I enjoy sharing clay time and conversation with. Working with Lana is a joy. Hand building in clay is the right speed for conversation and reflection. Everything about it is a connecting point: connecting pieces of clay to make an object, connecting me with how people have used clay throughout time, and connecting now with people and myself while making clay objects. Working with clay is nurturing.


My current clay intrigue is to make hollow ball pinch pots and low bowls. The interior space is as interesting to me as the outer shape and surface of each piece. They are influenced by nature and by Southwest Native pottery, and adobe houses with the blue door and window frames that keep the evil spirits out. I'm interested in the red terra cotta clay that reminds me of northern New Mexico, in raku with its rich value scale of blacks to whites, and in low fire clay that I can burnish to a smooth finish in the leather hard stage, and choose to leave plain or glaze, or paint with acrylic.


My low bowls are designed to explore the interior space and outer shape of the curved bottom and the Hopi inspired curved edge. I like to think of them as being spirit bowls that I don't fill so there is always space for spirituality and creativity. It is important for me to be deliberate in making space and time for them in my life. My hollow ball pinch pots are explorations that can be formed into an infinite variety of shapes with endless possibilities for surface decoration and texture before poking a hole in them for an opening to the interior space.